Update 10/11/2012
I've ridden the CT90 about 100 miles over the summer, with mixed results. I'm at a point now where for the first 20 minutes it's actually fun to ride — easy to shift and the motor doesn't die.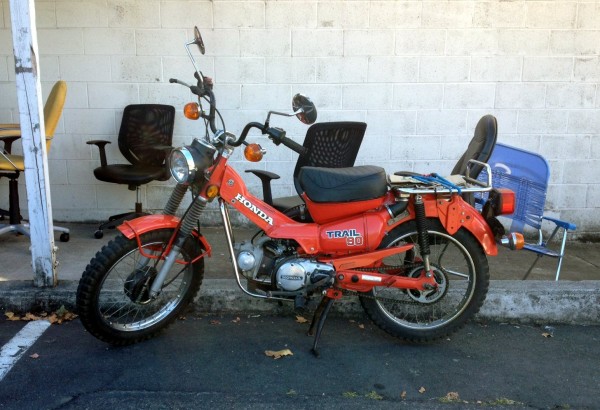 Then after around 20 minutes of riding it hits a point where it likes to drop out of gear into a kind of false neutral (mostly from 3rd and 2nd, when the RPMs get below a certain point, most noticeable going downhill), will be difficult to shift, and will randomly stop running at idle, usually about 3 seconds before the light turns green and there's a line of cars behind me.
Needless to say this is not OK. My next step will be taking apart the right crankcase cover and looking for broken/worn shift linkages, and checking out the carb float to see if it's adjusted correctly. Not sure what else it could be, I imagine this part will be trickiest to figure out.
Backstory
My late uncle Ron liked to ride motorcycles, and he had several. He bought this one in the 80's for my aunt so she could ride with him. My aunt opted out of riding, wisely, no doubt, and by all appearances the bike stayed unridden since the late 90s. She gave it to me in June 2012 and I spent some part of the summer getting it on the road again.
I divided the project into 2 parts, which so far have overlapped a bit. The first is to get it running and legal. That included me taking a motorcycle safety class and getting an endorsement.
The second phase is to make it pretty. I'm not sure how much time or money I'm going to want to spend on that, but it's a goal… I'll define "pretty" to mean no visible rust, all rubber and vinyl should be intact, and all painted and chrome surfaces should reflect ambient light in a way that humans would find attractive (mmm, shiny).
Here are some photos I took of it at my aunt's house 2 years ago. It didn't change much between that time and its arriving at my house June 2012.
My original plan was to keep the entire project, including helmet/gear, licenses, fees, parts, tools, cleaning supplies, chemicals, etc. under $1000. I've failed at that. So now the idea is to spend less money on the actual bike (parts) than its resale value would be fully restored. I imagine its restored value to be somewhere in the $1000-1500 area, so I have some room still.
Cost tally (already out of date):
| | |
| --- | --- |
| Parts and supplies | ~$506 |
| Gear, licenses, tools, etc. | ~$460 |
| Totals: | ~$966 |