This part of the project is about getting rid of rust and cleaning/restoring/replacing things to make it look nice and stay maintenance free-ish. The bike sat outside for many years but out of the rain, so it's not too bad to begin with.
Headlight chrome
This was my first attempt and restoring chrome. I probably shouldn't have picked such a visible piece for my first time, but whatever. I'm impatient.
I looked up how to do it. One method I found described using 3-in-1 oil and fine steel wool to get out the rust, then Blue Magic metal polish and a lot of rubbing. So I tried that. The chrome is now shiny except for at the bottom of the ring where it's a bit cloudy. I had to use the wool there more than anywhere else, and might have overdone it.
In this last shot you can still see pitting in sunlight. I'll have to try polishing again. Some recommend using wax or sealant afterward, I might try that too.
Seat vinyl
The seat wasn't in bad shape really, just dirty and looking kind of old. That and the vinyl is coming off one side of the seat. But no cracks. The side/unattached bit will need patching, but I'll wait on that.
After a lot of research it would seem that 303 Protectant is the best thing for vinyl. I found some at West Marine and the seat got better. It looks a bit old still but it is old. This is kind of lame without a before shot but here's what it looks like now.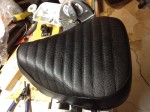 Rubber
There are rubber bits all over the bike, and they're mostly in decent shape. I bought a lot of replacement gaskets, but decided to keep a lot of the existing rubber as it's not that cheap to replace. I looked up options for how to restore rubber. One is to buy some rubber restoring liquid, which makes sense, but apparently all you need is glycerin.
Apply glycerin and let it soak into the rubber, and it will live longer. For rubber that's exposed to the sun, you can also spray on 303 Protectant to block UV.
Parts washing and waxing
Not waxing — I mean sealing, as after reading entirely too much on the subject I decided to go with Nu-Finish synthetic sealant rather than wax. I mostly just want to protect the metal and paint, and I don't want to have to reapply very often. Wax comes off too fast.
This was pretty simple really, I took the painted parts off (most of which I'd had to remove anyway — gas tank, front fender, chain guard, jerry can pieces) and washed them with dishwashing detergent (my friend Jamie helped a lot with this part), dried, then used the Nu-Finish. "For best results re-apply in 30 days." I didn't do that. I should probably do that.
Improvised exhaust shielding
The bike came missing a big piece of chrome exhaust shielding, with a piece of wood in its place. The wood was unfinished and weathered, and Jamie (who is a woodworker) offered to make a new one. And he did. This is way better than chrome.
Still to do:
clean and wax
– battery cover
– jerry can
– bike frame
– headlight/speedometer assembly (maybe paint it?)
– swing arm
clean and lube
– front forks
– rear shocks
restore rubber
– front fork covers
– pegs
restore chrome
– turn signals
– luggage rack
– engine cradle/guard
– triple tree
– exhaust shielding
– wheels/spokes
restore/de-rust/paint non-chrome
– center stand
– battery holder (paint with hammerite directly on rust)
– exhaust pipe (it doesn't seem to have holes, so this may be worth the effort)
match paint color and paint/touch up where it's rubbed off?
buy missing parts?
– passenger foot pegs